31 Dec

Obama needs April Charney to lead the fight against foreclosures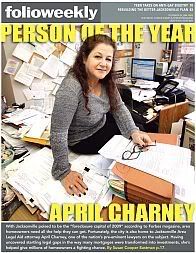 Politicians are a lot like major league baseball managers, in that the same people tend to be recycled in the MLB and Washington, D.C. Obama's administration contains mostly familiar names within the famed "Beltway," and his choice for chief of Housing and Urban Development is no different.
Obama has named Shaun Donovan, former NY City housing commissioner and Clinton aide, as the new director of HUD. While by all appearances, Donovan is a great pick, HUD must play an integral part of Obama's attempt to pull the housing market out of its nosedive.
Since the collapsed of residential real estate might be the largest contributor to our failed economy and since foreclosures are at the epicenter of this implosion, Donovan better be seeking the help of heavy hitters in the foreclosure prevention arena, and April Charney should be at the top of his list.
More than any other lawyer in this country, Charney has single-handedly elevated the profile of foreclosure defense by calling national attention to the problem facing lower and middle-class Americans in our courtrooms. She is THE face of foreclosure defense in this country at a time when foreclosure litigation is the most critical area of the law.
Charney has been featured in national print and internet publications such as Forbes Magazine and The New York Times and MSNBC.com and has done countless interviews on television – even Fox News. Just this week, The Folio Weekly, a Jacksonville independent newspaper, selected Charney as Person of the Year (the pdf takes about 45 seconds to download).
Charney has taught thousands of lawyers nationwide about mortgage servicer abuses, and she constantly gives case-specific advice to hundreds of lawyers through various email groups. I have particularly benefitted from Charney's knowledge and experience because I am lucky enough to live in Jacksonville, Florida, her home base.
Before I had the pleasure of knowing her personally, the cynical lawyer in me pondered her motivation. Was she seeking publicity for the sake of money, power or fame? The answer has become clear to me – Charney is a real American hero.
Given the thousands of Americans who have paid the ultimate sacrifice for this country domestically and abroad, the word "hero" can be dangerously overused to describe anyone not risking life and limb. However, it is the description most accurately describing an individual who has chosen a path of not just serving the public but serving the poorest in our society – people without money, influence or celebrity.
As a Florida foreclosure defense attorney, I am often asked by local judges if I am making one of those "Charney arguments," as if I am about to perform a parlor trick in the courtroom. Quite frankly, I am relieved that, across other parts of Florida and the nation, state court judges are beginning to appreciate that a "Charney argument" is merely an application of sound commercial principles that have been around for a thousand years. Charney is just too good to stay in our minor league town, and she has provided ammunition to enough local attorneys to leave Northeast Florida in good hands.
If Obama and Donovan want to attack the foreclosure problem at its core, they need to pick up the phone and give Charney a call. They'll have to leave a message, though. She's away from her desk providing "a wealth of justice to those that have neither."
The following two tabs change content below.
Chip Parker is the managing partner of Parker & DuFresne, P.A., where he represents Northeast Florida businesses and consumers facing bankruptcy, and homeowners facing foreclosure. His firm files more homeowners in the Mortgage Modification Mediation Program than any other law firm in Northeast Florida. Parker is the recipient of Jacksonville Area Legal Aid's prestigious Award for Outstanding Pro Bono Service. Mr. Parker is an active member of the National Association of Consumer Bankruptcy Attorneys and National Association of Consumer Advocates.
Latest posts by Chip Parker, Esq. (see all)