09 Apr

How do I check out of my hotel condo?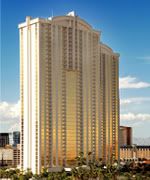 Fuelling the over-heated housing market a couple of years back was real estate investing, and the result today is a condo market where units are selling for half of what people paid for them in 2005. Anyone who purchased a condominium as an investment must have realized the potential to lose money, no matter how remote that possibility seemed.
However, what if you were sold your condo by an aggressive developer who "projected" for you a return on your investment? Well, that doesn't sound like a condo. That sounds like a security, and if the developer created an expectation of an investment return, federal securities laws may have been broken.
As reported in the Wall Street Journal, the condo hotel was often marketed by developers disclosing revenue projections to potential investors. One investor told the WSJ that the sales staff at MGM's Las Vegas condo hotel property led him to believe that the hotel would enjoy 94% occupancyat a $350 per night room rate. Based upon this representation, the investor financed the purchase of a unit (probably using one of the developer's preferred lenders), expecting to more than cover his $3000 per month mortgage payments.
The condo hotel is loved by developers because it is a hedge against risk since developers get much of their investment reimbursed on the front end of a project. The problem is that, if a unit is being marketed with projected return on investment, it is really no different than a broker peddling a stock on Wall Street, which would require the developer to register the condo hotel with the Securities Exchange Commission.
Treating a condo hotel as a security would have meant more detailed disclosure of the project by the developer in an investment prospectus, allowing potential investors to make more informed investment decisions. If the transaction should have been registered with the SEC, buyers can rescind the deal and get their money back.
Using this theory of rescission, investors are seeking to check out of their hotel condo without having to prove fraud or misrepresentation in court. One attorney for an investor observed, "All you have to do is find the developer's newspaper ads, and it could be a devastating blow."
The following two tabs change content below.
Chip Parker is the managing partner of Parker & DuFresne, P.A., where he represents Northeast Florida businesses and consumers facing bankruptcy, and homeowners facing foreclosure. His firm files more homeowners in the Mortgage Modification Mediation Program than any other law firm in Northeast Florida. Parker is the recipient of Jacksonville Area Legal Aid's prestigious Award for Outstanding Pro Bono Service. Mr. Parker is an active member of the National Association of Consumer Bankruptcy Attorneys and National Association of Consumer Advocates.
Latest posts by Chip Parker, Esq. (see all)