19 Feb

April Charney and Jacksonville Area Legal Aid lead the fight against foreclosures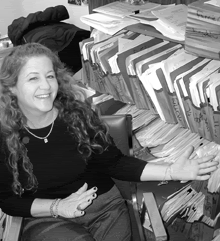 April Charney's importance to this country cannot be over stated. Ms. Charney is not just a hero to the poorest members of our society, she is a mentor to many lawyers dedicated to protect the middle class, including me. Not only does she provide valuable guidance and training to any consumer attorney that asks, she is a media darling.
Ms. Charney's honest opinion is never hard to find, which makes her the perfect vehicle for the sensationalizing press. She is sly like a fox and understands the importance of sound bites. Today, she and Legal Aid were profiled in the Florida Times Union, wherein she brought more attention to the ability of homeowners to stop their foreclosures.
In the article, she states, "These court interlopers might as well be wearing a ski mask and carrying an Uzi for as much right as they have to force homeowners out of their homes." That's good stuff! More importantly, these are words that give hope to frightened homeowners facing foreclosure.
What continues to puzzle me is that the South Florida foreclosure mills act as if foreclosure defense attorneys, including Ms. Charney, are one-trick ponies. Their misguided impression is that our entire defense is demanding that plaintiff's produce the original note.
The production of the original note is the tip of the iceberg. In the years that I have been defending foreclosures, my firm has refined and redefined our litigation tactics while these foreclosure mills have remained stagnant.
What do these plaintiff lawyers think I'm doing while I wait for them to produce the note? I'm learning, designing and strategizing. I have plenty of cases pending where the original note has been produced, but the plaintiff is still no closer to a foreclosure.
The truth is that the defense of foreclosures is some of the most complex litigation known to the legal profession, and the best foreclosure defense attorneys do nothing but fight mortgage companies, whether in state court or bankruptcy court.
For example, the lawyers of Parker & DuFresne, P.A. have been recognized by our peers as one of the premier divorce litigation firms in the Jacksonville area. However, when we made the conscious decision to expand into the area of foreclosure defense, we stopped taking divorce cases altogether. We have even removed our divorce content from our web site.
The defense of foreclosures is serious business, and it is great to see my friend, April Charney, leading the way in the courts and in the press.
The following two tabs change content below.
Chip Parker is the managing partner of Parker & DuFresne, P.A., where he represents Northeast Florida businesses and consumers facing bankruptcy, and homeowners facing foreclosure. His firm files more homeowners in the Mortgage Modification Mediation Program than any other law firm in Northeast Florida. Parker is the recipient of Jacksonville Area Legal Aid's prestigious Award for Outstanding Pro Bono Service. Mr. Parker is an active member of the National Association of Consumer Bankruptcy Attorneys and National Association of Consumer Advocates.
Latest posts by Chip Parker, Esq. (see all)